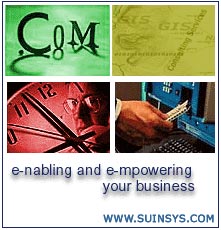 SUINSYS is a leading provider of CAD, GIS, Data Entry, Web Designing and Software Development services to various companies worldwide. It specializes in providing quality services to international clients through its off-shore facilities in India.
SUINSYS provides various services in the fields of
CAD
GIS
Data Entry
Web Designing/Development
Software Development
Critical to all engineering design, construction details and documents are the key elements of communication and should be managed as an investment. Your current CAD capabilities can be enhanced by adding us to your team. SUINSYS offers a wide range of GIS and mapping services. SUINSYS can provide GIS design, consulting, GIS application development and custom mapping services. Various types of data conversion jobs are also a part of our services.
SUINSYS specializes in professional custom business web design, flash animation and graphic design. Our objective is to help business organizations talk more effectively to their customers. We help them achieve this through good design. Our talented development teams have designed custom Internet and Client Server software applications for a variety of industries and business types.
At SUINSYS, we believe that good communication is essential to business success. Survival and growth depends on your brand identity and collaborative relationships.
SUINSYS helps its customers improve their business through the application of state-of-the-art information technology. Backed by a strong Management and experienced Professionals, we assure our clients of successful time bound project results which is of the topmost quality.
---
---
Site Designed & Developed by SUINSYS